Business Card Printing Prices Explained
The business card print pricing chart above shows the price for printing x number of business cards with either full color printing on one side or on both sides. We don't give pricing for 2 color or black back printing, though some of the printers may offer this as a free addon.
Business Card Weight and Thickness
Business card weight (lbs and grams) and points (the thickness, pt) are both used in the printing industry. To convert from pounds to points (from lbs to pt used in the chart) is not an exact conversion. A 100lb paper may be thicker than a 110lb paper of another material and a coating on the 100lb paper may make that again thicker than the 110lb paper. For the purposes of the business card printing comparison chart we don't display any prices for business cards that are less than 12pt as we feel anything less than a 12 pt thickness feels like a cheap business card and that's not an impression you want on you buisness. While most printers display the thickness (pt) of their business cards some only display the weight of the paper they print on. We convert these to the closest paper thickness we can guess. We convert 100lb to 12pt, 110lb to 13pt, 120lb to 14pt and 130lb to 15pt.
Business Card Gloss / UV Coating
For simplisity of the chart and because glossy business cards are more popular than matte business cards we only show pricing for a gloss or uv coating. This shows a more realistic price comparison since some of the printing companies offer to put a gloss coating on the business cards for free while others charge a fee for it.
Business Card Deals, Discounts and Coupons
The print industry loves offering deals and discounts all around and so we found it necessary to try and keep up with these current offers to give you, the customer, a fair and more realistic overview of what the best use of your money is. We display the date that we last updated the table on this page, but it still doesn't mean that all the discount prices will still be in effect, nor that the coupons will still be valid.
Business Card Shipping Costs / Free Shipping
Because most shipping costs are calculated per location we do not add the shipping cost into the business card pricing. We will attempt to place a note by the companies that offer free shipping.
Business Card Marketing Ideas
Business cards are a powerful marketing tool because people keep them, they are cheap and can quickly convey your sales message. Think of the ways you can use business cards to market your business.
Leave business cards at local shops and on public boards, give business cards to your friends and family to hand out when they meet someone in need of your product or service or even create small product information flyers out of business cards. You could Use high quality business cards to hand out to potential clients and cheap business cards as informational flyers. I personally have 5 different business cards for different services and aspects of my business.
Business Card Printing Reviews and Comparisons
As always, it's about finding the right printer for the job. We'll help you narrow down your choices depending on how you want your business cards to look and how much you want to pay. You'll find that different printing companies have different specialties and while one printer may be the cheapest for single sided business cards in high quantities, they may not have the lowest price when it comes to double sided business cards in low quantities.
Business Card Printing Reviews
Add your review at the bottom of this page.
VistaPrint.com – ****
Not the best quality, but not bad either. When they have a sale they have the best prices out there. I've used them for 5 different business cards, 2 different postcards, letterhead and envelopes without a problem.
How to Use Our Business Card Templates
You don't want to be caught without a business card, but you don't want to be caught with a business card that doesn't identify you either.
If you have tried online business card designers, or even tried designing your own card, it's difficult to get something that looks good. Even more difficult is to create something that looks good and communicates what your business it and why it is special.
The business card templates that we've put up for you are meant to allow you to put what matters where it matters.
You can use these templates anywhere, even load them into the design program of your choice and start building on top of them. The templates are a standard 2×3.5 inch business card size with a 1/16 in bleed.
We usually use Overnight Prints since they offer a wonderfully thick 15pt (350 gsm) business cards at a very reasonable price. Having nice thick business cards says a lot about a company. You also might be interested in the business card pricing comparison where you can compare a wide range of online printing services and learn more about their costs, quality and card stock (paper thickness).
If you choose to use Overnight Prints then go to their business card page and click on "Advanced Designer". Skip choosing a background and go right to the designer. In the designer start by selecting and deleting all of the text fields. Then in the top left corner switch from "Quick Start" to "Advanced" and click "Upload Image". Upload the business card template your downloaded from us. You can now start to add in your information with the text tool (the top left icon that looks like a "T")
Here is an example of what you can do: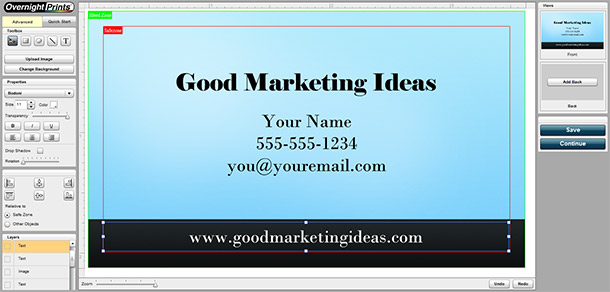 We used their Elephant font for Good Marketing Ideas and their Bodoni font for the smaller text and website address.
Think about what information you really need on your business card.
What is the most important for your customers?
Phone number? Website? E-mail?
For us it is our website, so we put it in the black area at the bottom. In marketing we are call this our call-to-action area. It's the area with the most contrast and strongest colors meant to draw attention and tell the customer what they can do next to get more information.
Keep your business card simple. Do you really need your fax number on it when you have only received 2 faxes in the past year? Couldn't you just email your fax number to the select few that might need it?
Now for the most important part: Your marketing message! What are you offering? I'm amazed at how many business cards I have that I vaguely remember receiving, but have no idea what Mr. John Smith does or why I would have held onto his business card.
More than just what you do is the benefit of what you do for your customer.
For our business card we might put "Marketing Ideas to Grow Your Business".